When it comes to children's easels, there are various styles to choose from, each catering to different preferences and creative needs. We have prepared a guide for you to see which designs are available on the market and how their features and attributes measure up against one another. 
Types of easels
As with children's desks, cupboards and furniture easels for junior artists come in an array of shapes, sizes and materials. Did you know there are 11 of them, each with their own benefits? Whether it's practising drawing ideas, or simply doodling the day away, there is no one style fits all. 
Traditional Wooden Easel: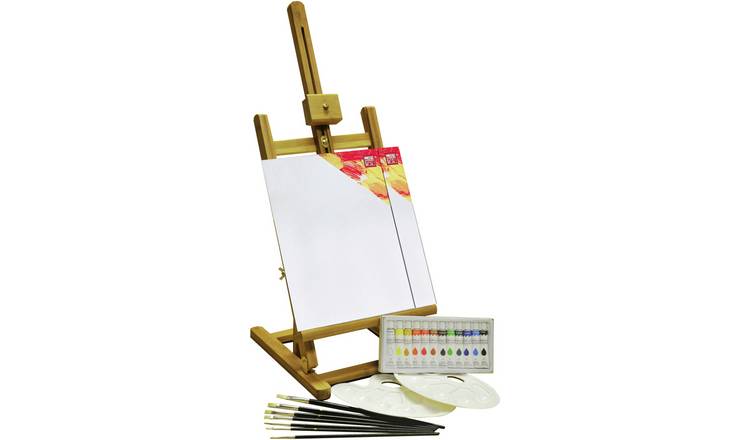 A timeless choice, the traditional wooden easel provides a sturdy and classic platform for your child's artistic endeavours. With an adjustable canvas holder and ample space for stationery including paints and brushes, this easel encourages creativity and offers a comfortable drawing and painting experience.
Double-Sided Easel: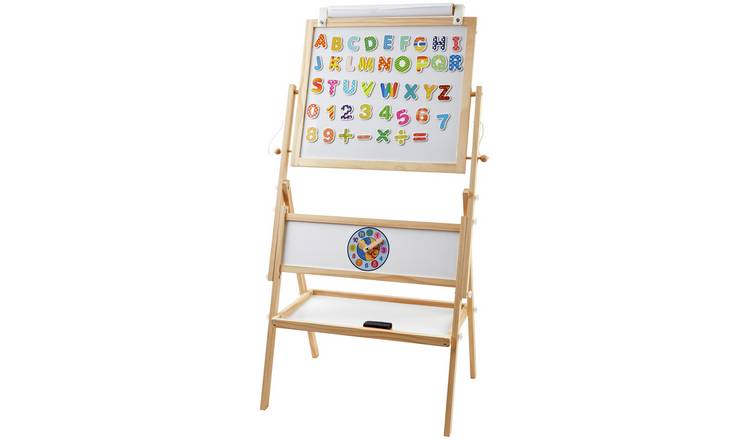 The double-sided easel doubles the fun! Featuring a chalkboard on one side and a whiteboard or paper roll on the other, it's perfect for versatile drawing, colouring, and writing activities. Kids can switch between mediums and engage in imaginative play with ease.
Tabletop Easel: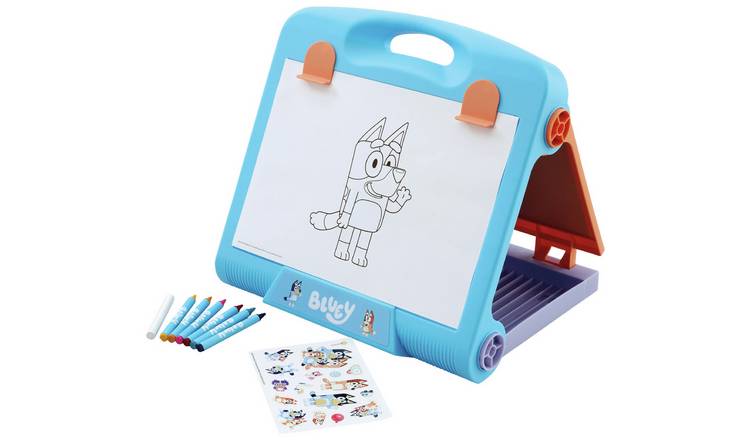 Compact and convenient, a tabletop easel is ideal for young artists with limited space. It offers a stable surface for drawing and painting, and its portable design allows creativity to flourish anywhere in the home.
Foldable Easel:
The foldable easel brings flexibility to the creative process. It easily collapses for storage or transport, making it an excellent choice for families on the go. Whether indoors or outdoors, your child can explore art wherever inspiration strikes.
Art Studio Easel: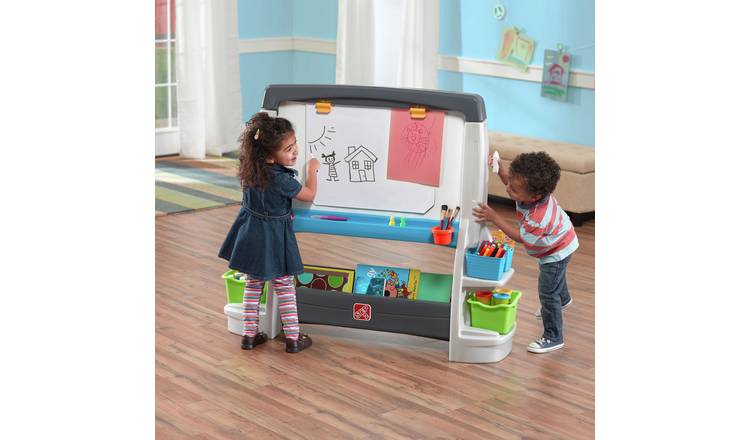 For budding artists who want to feel like professionals, an art studio easel provides ample workspace and storage. It's equipped with various compartments for art supplies and offers an elevated experience for children serious about their craft.
Activity Easel: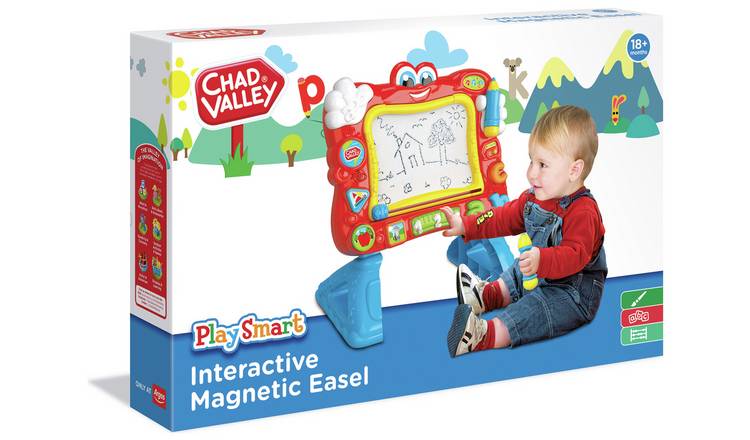 Designed for interactive play, the activity easel combines art and learning. With features like letter and number magnets, alphabet charts, and shape templates, it engages children in educational and artistic exploration.
Travel Easel: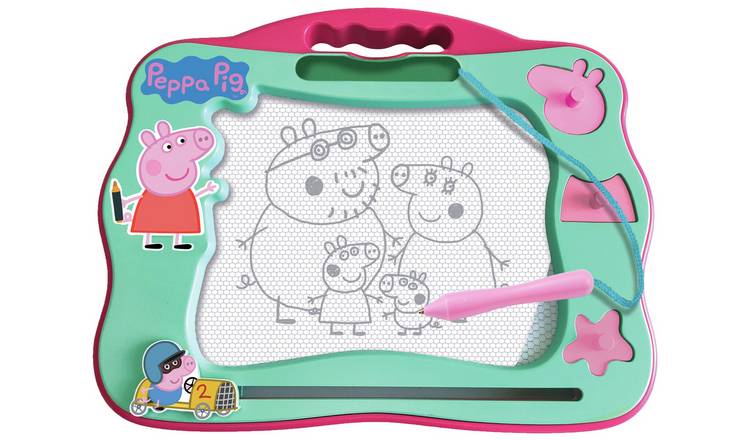 Perfect for creative adventures on the move, a travel easel is lightweight and compact. It fits neatly into backpacks and suitcases, ensuring artistic inspiration is just a moment away during trips and outings.
Standing Easel with Accessories: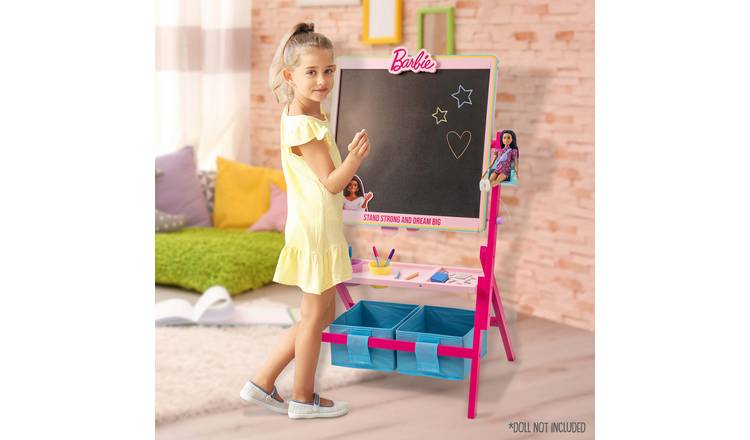 This comprehensive option includes various artistic tools and materials, such as paints, brushes, and markers. The standing easel with accessories provides an all-in-one solution for children to unleash their creativity and experiment with different mediums.
Dry Erase Easel: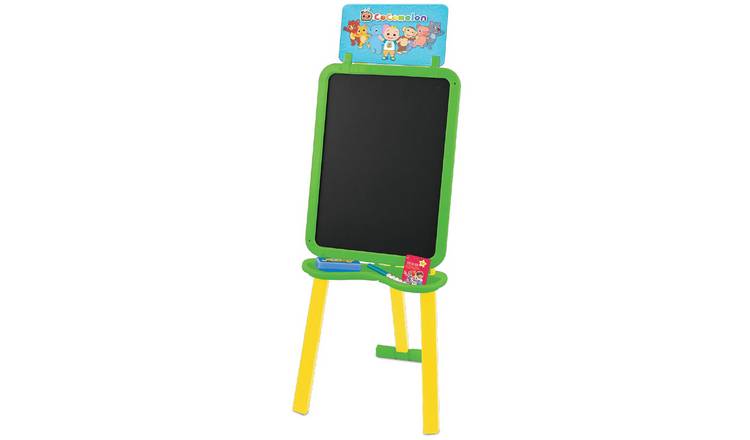 A dry erase easel offers a clean slate for doodles, drawings, and messages. It's especially handy for quick sketches and reusable artistic expression, making it a versatile addition to your child's creative toolkit.
Adjustable Easel: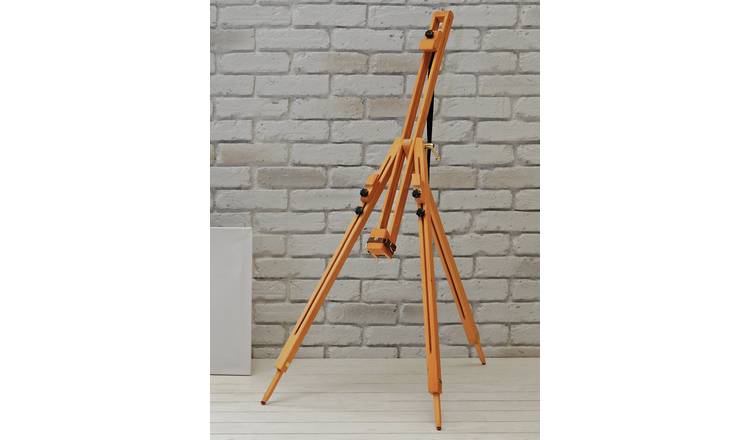 As your child grows, so can their easel. An adjustable easel allows you to modify the height to accommodate different ages and sizes, ensuring comfortable and age-appropriate creative sessions.
Collapsible Easel: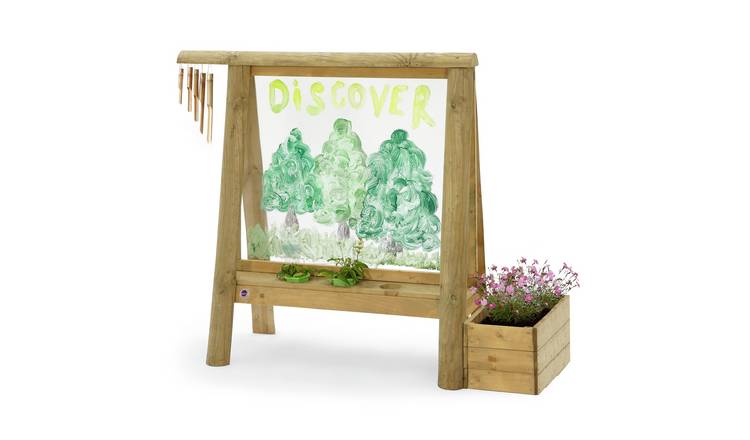 Maximise space without compromising on creativity with a collapsible easel. It neatly folds away when not in use, making it a practical choice for families with limited room or those who prefer easy storage solutions. 
Where can I buy an easel for my child? 
You can buy a children's easel from various retailers, both online and in physical stores, across the United Kingdom. Here are some popular options:
Online Retailers: Websites like Amazon UK, Argos, and John Lewis offer a wide selection of children's easels with different styles and features.

Arts and Crafts Stores: Specialty stores like Hobbycraft and The Works often carry a variety of children's easels in their art supplies sections.

Educational Toy Shops: Stores like Early Learning Centre (ELC) and Smyths Toys specialise in educational toys and materials, including children's easels.

Department Stores: Retailers like Debenhams and Marks & Spencer may offer children's easels as part of their toy or home goods departments.

Specialty Toy Shops: Explore local toy stores in your area that focus on unique and educational toys for children.

Office Supply Shops: Some office supply stores carry art and craft supplies, including children's easels.

Online Marketplaces: Aside from major platforms, consider exploring platforms like Etsy for handmade or customised children's easels.

Local Art and Craft Fairs: Attend local art and craft fairs, where you might find artisans who create and sell unique children's easels.

Secondhand or Charity Shops: Check charity shops, secondhand stores, or online marketplaces for gently used children's easels at a lower cost. 
How much does an easel cost?
The cost of a child's easel can vary widely based on factors such as brand, size, material, features, and additional accessories. Basic tabletop easels or simple standing easels can range from £20 to £100. More advanced models with adjustable heights, double-sided boards, storage trays, and added features can range from £50 to £150 or more.
Wooden easels may be at the higher end of the spectrum, while plastic or metal options might be more budget-friendly. Consider your child's age, preferences, and intended use to find an easel that strikes the right balance between quality and affordability for your family.
Children's easel checklist: what to look for
When you're on the hunt for the perfect easel for your child, there are a few key things you'll want to keep in mind. Let's take a closer look at the features that will help you make the best choice for your little artist:
Adjust to Grow 
Think about how the easel can adapt as your child grows. Look for features like adjustable height, tilt angle, and the ability to handle various canvas sizes. This way, the easel can evolve with your child's artistic journey.
Built to Last 
You'll want an easel made from sturdy and durable materials, like wood or metal, to ensure it can withstand all the creative adventures your child embarks on.
Tidy and Organised 
Consider easels with added storage features, such as trays or shelves, to keep art supplies neatly organised and within easy reach.
Double the Fun 
If your child enjoys different drawing mediums, a double-sided easel with a chalkboard on one side and a whiteboard or paper roll on the other might be just the thing.
Extra Perks 
Keep an eye out for special features like magnetic surfaces or clips for securing paper. These little extras can make the creative process even more exciting.
Easy to Store 
If space is a concern, a foldable or portable easel can be a lifesaver. It's great for setting up when it's time to create and tucking away when playtime is done.
Safety First 
Of course, safety is crucial. Look for easels with rounded edges and non-toxic materials to ensure your child's artistic adventures are safe and sound.
Perfect Fit 
Consider your child's age and skill level when choosing an easel. Finding one that aligns with their abilities can boost their confidence and creativity.
What Others Say 
Don't forget to check out reviews from other parents. Their experiences can provide valuable insights and guide you toward the right choice.
Balancing Act 
While comparing prices is important, also think about the overall value the easel brings – in terms of features, durability, and the creative opportunities it offers.
What should kids easels be used for?
How to use it

How not to use it

Drawing and Colouring

: Easels provide a canvas for kids to express their artistic ideas using crayons, markers, and coloured pencils.

 
Writing or Drawing with Permanent Markers

: Permanent markers can stain the easel's surfaces and be difficult to remove, potentially ruining the easel's appearance.

Painting with Various Media

: Easels offer a sturdy surface for painting with watercolours, tempera, and other paints, fostering creativity.

Using Heavy or Sharp Objects

: Avoid placing heavy objects or sharp items on the easel, as they can damage the surfaces or cause safety hazards.

Chalk Art and Markers

: Many easels have chalkboard surfaces, allowing kids to create with chalk and markers, promoting hands-on fun.

Painting with Non-Acrylic or Non-Washable Paints

: Easels are often designed for washable and water-based paints. Using non-acrylic or non-washable paints can be difficult to clean and may damage the easel.

Learning to Write and Spell

: Easels support early writing and spelling skills as children practice letters, numbers, and words.

Attaching Heavy Decorations

: Heavy decorations or accessories can strain the easel's structure or cause it to become unstable. Stick to lightweight decorations.

Displaying Artwork

: Finished creations can be showcased on easels, boosting a child's sense of accomplishment and pride.

Using Inappropriate Art Supplies

: Avoid using art supplies that are not age-appropriate or suitable for children, as they may pose health risks or damage the easel.

Storytelling and Narratives

: Easels let kids illustrate their own stories, enhancing narrative skills and imaginative storytelling.

Using Incompatible Materials

: Make sure to use materials suitable for the easel's surfaces. For example, using adhesive tapes on delicate surfaces can damage them.

Exploring Mixed Media

: Easels serve as a platform for combining different techniques, materials, and textures in one artwork.

Using Harmful Chemicals or Solvents

: Avoid using chemicals or solvents that can potentially harm the easel's surfaces or pose health risks to children.

Collaborative Art Projects

: Kids can collaborate on the same easel, fostering teamwork and shared creative experiences.

Engaging in Unsafe Play

: Children should not use the easel for activities that may compromise their safety, such as using it as a makeshift play structure or climbing device.

Fine-Tuning Artistic Techniques

: Easels encourage experimentation with brushstrokes, shading, and blending, refining artistic skills.

Exposing to Extreme Weather Conditions

: Keep the easel indoors and avoid exposing it to extreme weather conditions, as this can deteriorate the materials.

Unleashing Imagination and Creativity

: Above all, an easel is a gateway to unleashing a child's imagination, fostering endless creativity and growth.

Storing Wet Paintings or Supplies

: Leaving wet paintings or supplies on the easel for an extended period can lead to warping, staining, or mould growth.