House & Home Portraits
Your home illustrated in high quality digital print or beautifully framed. Quickdraw's artists will transform a photograph of your house into a wonderful work of art, to treasure for eternity. Order online with fast checkout and secure delivery today.
Vendor:

Regular price

From £29.95 GBP

Regular price

Sale price

From £29.95 GBP

Unit price

per

Vendor:

Regular price

From £29.95 GBP

Regular price

Sale price

From £29.95 GBP

Unit price

per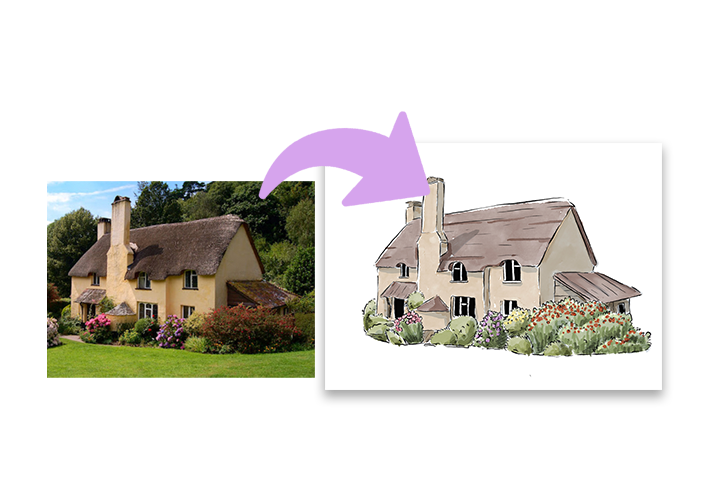 Photo to portrait... every detail included
100% guaranteed likeness of your family home, every time - illustrated to perfection!
A simple and easy order process
Let us do the hard graft, while you put your feet up with a cuppa.
1. Choose your dimensions and format

2. Complete the order process online

3. Receive email confirmation of your order

4. Send your photo file and desired text via email

5. Quickdraw artists get to work on your portrait

6. Wait for your delivery between 5-10 working days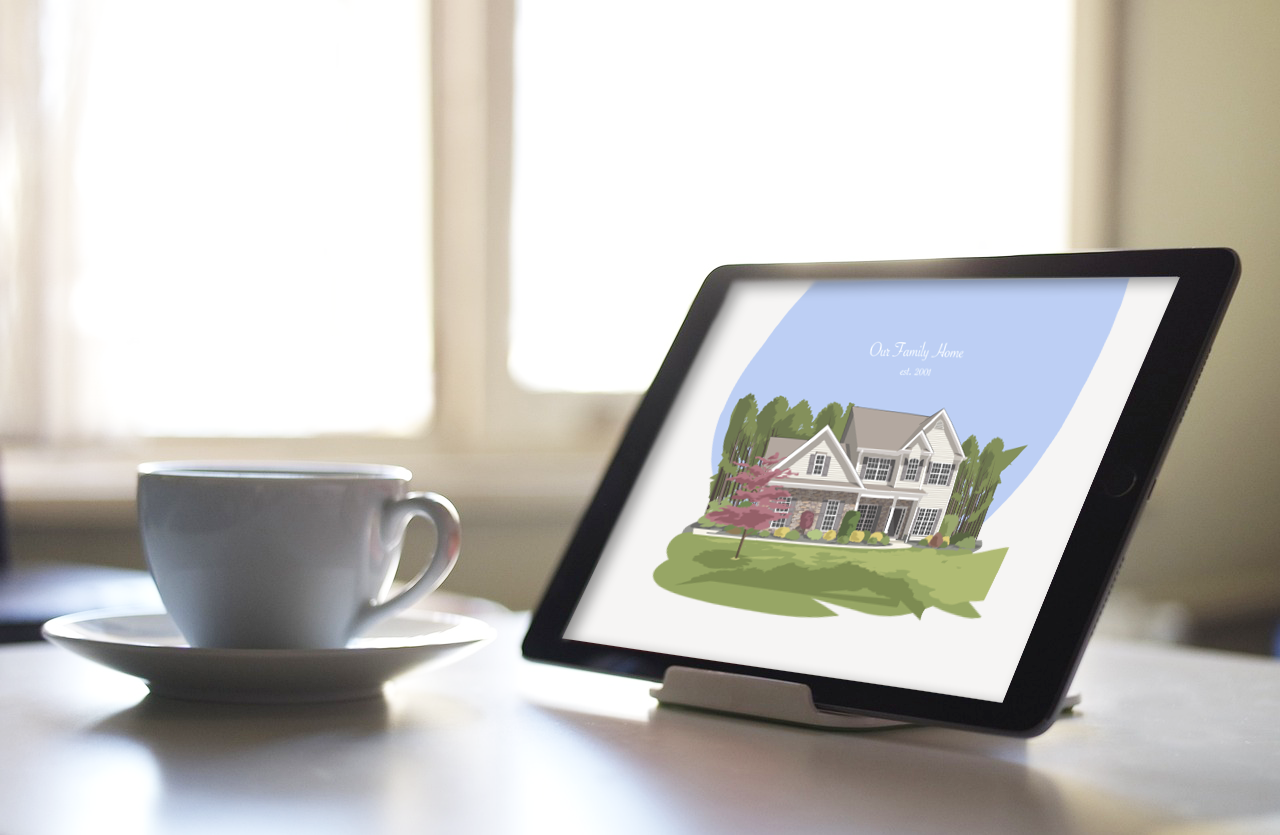 Download to your phone or tablet
Order a digital print and keep your house illustration saved on any device at home or in the office.
Trusted by thousands of families
What kind of photo can I upload?
Here are a few tips to follow when taking a photo of your pet to send in to us. Follow these do's and don'ts and Quickdraw can transform your loveable creature into a work of art!
Full building in view

Sharp camera focus

Plenty of camera light

Too much blur

Cropped out building

Poor lighting
Helpful Q&A's
What exactly is a custom house illustration, and how can it bring joy into my living space?

Our custom house illustrations are unique, digitally-drawn artworks that transform your house or dream home into a beautiful piece of art. Hanging these illustrations in your living or working space serves as a reminder of the wonderful memories made in your family home, bringing joy and warmth to your surroundings.
Who can benefit from a custom house illustration?

Our illustrations make for the perfect gift on any occasion! Whether it's a birthday, anniversary, housewarming, or a thoughtful gesture between friends and family, these bespoke illustrations are sure to bring smiles and touch hearts.
What styles of house illustrations do you offer?

We offer two distinct styles: a watercolor style and a cartoon vector style. Both styles are of the highest quality and created by our approved artists, ensuring that your illustration is unique and tailored to your preferences.
What is the quality of Quickdraw's house illustrations?

We take great pride in delivering the highest quality illustrations to our customers. With thousands of ratings and an average rating of 4.7 out of 5, our positive customer reviews speak for themselves. Rest assured that your house illustration will be crafted with utmost care and attention to detail.
How can I place an order for a custom house illustration?

Ordering your custom house illustration is easy and hassle-free! Simply visit our website on your mobile, desktop, or tablet, choose your desired size (A3, A2, or A1), and select either the digital file or physical print with a frame option. Our online order form is quick to complete, and you'll receive an order confirmation email once you're done.
What do I need to provide when placing an order?

We require a clear, well-lit photograph of your house or home for our artists to transform into a stunning illustration. To ensure the best result, the photograph should have the full building in view, be sharp in focus, and not be cropped out or too blurry. If your initial photo doesn't meet these criteria, we'll reach out and ask for an alternative.
How will I receive my custom house illustration?

Once your illustration is ready, you can choose to receive it via email as a digital file or through the post as a physical framed poster or print. The digital file can be easily downloaded on your phone, tablet, or desktop, while the framed option is ideal for hanging in any room of your house or office.
What are the pricing options for Quickdraw's custom house illustrations?

Our prices vary depending on the size and format you choose. You can find the specific pricing details on our website, and rest assured that our affordable costs set us apart from other services in the market, providing great value for our customers.
Can I order multiple custom house illustrations?

Absolutely! If you have multiple houses or homes you'd like to have illustrated, you can order as many custom illustrations as you'd like. Each illustration will be unique and tailored to your specific requests.
Is there a money-back guarantee if I'm not satisfied with my custom house illustration?

We strive for customer satisfaction, and if for any reason you're not completely happy with your custom house illustration, please reach out to our customer support team. We'll work with you to make things right and ensure you're delighted with the final result.