How To Draw a Cute Care Bear
Sketch and colour in your very own cartoon illustration of Cheer Bear from the TV show, Care Bears. Follow these easy drawing tips to complete your special artwork in just 6 minutes!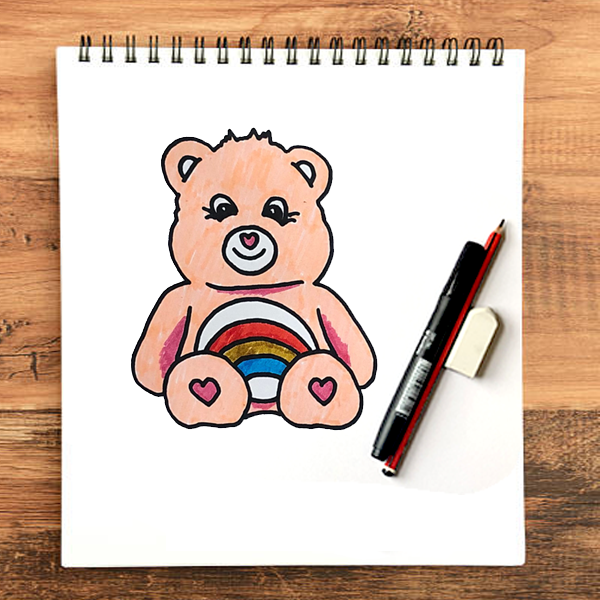 Suitable for beginner skill level artists
Complete in three simple steps
6 minute-long video tutorial
Made with pink, red, blue, and brown colours
Watch the video tutorial
This video drawing tutorial of Cheer Bear from the Care Bears is about 6 minutes long. A friendly voiceover tells you which coloured pens and pencils you will need. You can pause the video at any time to take a break and catch up. Click the play button below to get started.
Step by step drawing guide
The how-to guide below shows you how to sketch and colour in cartoon Cheer Bear art easily, one bit at a time. Scroll down and start drawing!
1. Draw the head

Starting with the head, take your pencil and draw a shape with a top curve and a flattish bottom. 

It's going to look like a toadstool head, or a rock right now.
2. Draw the face

But then by adding a snout in the centre, like this, and two semi circle eyes we can see a face start to form. 

Then for a pair of fluffy ears, positioned left and right. 

Here comes a tiny nose in the snout area, just above a smile. 

Some detail around our Care Bear's eyes now, and that's the head finished! 
3. Draw the body

Next in our Care Bear drawing we will mark out the body. 

A line down either side with a semi circle line just inside - this is the white tummy area. 

Then for two rather large bear paws that face front. Leave a small gap in between them for a line that marks the bottom of our little bear's body. 

Some more curves now either side of Cheer Bear's body - these are a chunky pair of arms that reach from the neck down to the paws.
4. Draw in the rainbow stripes

And last of all, we can draw in some rainbow stripes on the tummy, and a couple of paw prints on each paw. 

Guys, part one is now complete! Fantastic job. 
5. Trace over the pencil lines

On to the next stage of our Cheer Bear drawing, and that's tracing over those pencil lines with a black marker pen. 

Start anywhere you like. 

Now the illustration is starting to come alive, right? Excellent. 

Hey guys did you know, Cheer Bear is a very happy Care Bear who helps others see the bright side of life. She will sometimes even cheer to help make someone happier! Wherever she goes, Cheer Bear wears a belly badge of hope and happiness — a colourful rainbow, like the ones you see in the sky after the sunshine follows rain. 

You may also see cute rainbows like this on unicorns and other fairytale animals in storybooks - some of which you can learn to draw with Quickdraw! 
6. Colouring in

Almost done now… let's get colouring! 

This is the most relaxing and possibly rewarding part of all. 

Take out a few colours from your pencil case, preferably pink for Cheer Bear's fur, and a blue, yellow and red for the rainbow pattern. 

If you are a confident colourer, you can even choose a darker pink to add some shade like this. 

We have almost finished learning to draw a Care Bear, and hopefully you'll share your incredible artwork with your friends, family and school teacher. 

Stay tuned for more Quickdraw easy drawing ideas… and click subscribe to join our community! 

See you next time guys. 
More drawing ideas you might like...