How To Draw a Minion From Despicable Me
Drawing a Minion is easy with Quickdraw's video tutorial and sketching guides. Take your pencil and pen and transform your blank page into a masterpiece featuring one of Despicable Me's yellow, friendly minion characters - don't tell Gru!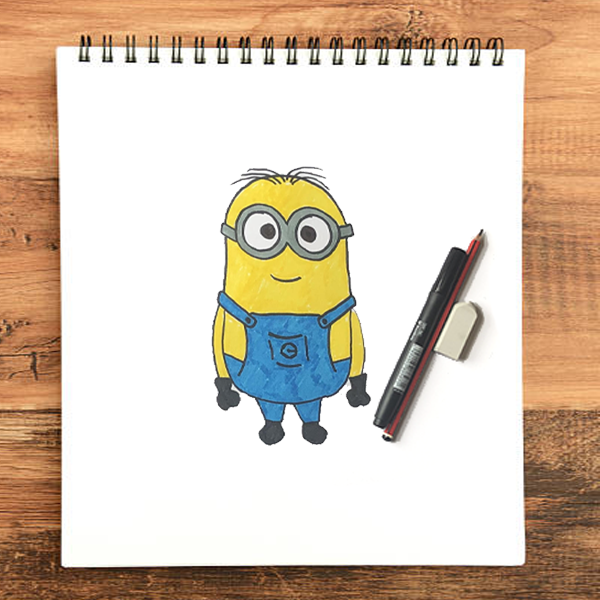 Suitable for medium skill level artists
Complete in three simple steps
Takes less than 10 minutes
Made with yellow, blue, grey and black colours
Watch the video tutorial
This video drawing tutorial of this little minion is under 10 minutes long. A friendly voiceover tells you which art materials you will need. You can pause the video at any time to take a break and catch up. Click the play button below to get started.
Step 1: Drawing with pencil
Okay, where to start… head to toe. Mark out a circle so we have a curved edge for our Minion's head. 

Then you can draw two lines down either side where the body will go.
Find the middle of your circle and draw two smaller circles that join together. This shape will be our Minion's thick goggles. 

Add a small rectangle at each side, which is the frame for the goggles.

Some minor adjustments to the shape of the head, only if you need to of course - a circular shape is perfectly fine. 

Just below the goggles add a cute smile. Then our face is almost done.
Draw a straight line under the bottom edge of the circle we have used for our Minion's head for the dungarees. You might also call them overalls, or a work apron. 

They will be held up by two straps like this. 

These dungarees go further down to the bottom of our Minion's body, so that gives us a soft rounded edge. 
What's next? A pocket in the centre. 
Two beady little legs poking out below. 

Finally, a pair of googly eyes inside those thick rimmed goggles. 

Awesome job guys, that's some great Minion artwork. 
Here's a fun part. The chunky leg. Draw from inside the body like this, and then extend that line outside the dragon's body to make an egg-shape. 

Now for the foot, facing upwards. Create a slim, curved triangle next to the egg. Then, by rubbing out those inside lines you'll be left with a perfectly normal looking baby dragon's leg… if that is such a thing, haha! 

Some final detailing on the foot and leg, and we're all good there. 

On the left, the second leg now. 

Looking great so far boys and girls. Now some detail on the belly. In the middle of the dragon's neck draw a curved line all the way down to the top of its leg.

Some tidying up with the eraser like so. 
Step 2: Drawing with pen
Fetch your black marker and make those pencil outlines stand out nice and strong. 

Hey, so what's the coolest secret you know about the Despicable Me movies and our cute, yellow Minion friends? Here's a great fact to share with your friends… 

The Minions have their own language which is called 'minionese.' This gobbledygook speak uses words from real life languages including French, English, Spanish, Italian, Russian and Korean. How amazing is that! 

Great job, almost done. Hey, don't forget our Minion's straw-like hair. 
Step 3: Colouring in
Now onto the last piece of our Despicable Me drawing project… the colouring in. 

If you are a hardcore Minion fan then you will know for sure what colours to use, but if this your first time drawing these odd characters from Desp[icable Me then don't worry. All you need to know is… 

The body is yellow. The outfits are blue, with black or grey gloves and boots. Grey too for the goggles. 

And you're done! Fantastic work guys. 

Check out more of the Quickdraw online art lessons online, and tell all of your friends too! 

See you next time.
More cartoon drawing ideas right here...