How To Draw Piglet
Make your very own Piglet drawing. Follow these tips to get started and complete your amazing artwork of one of Winnie the Pooh's oldest, dearest animal friends.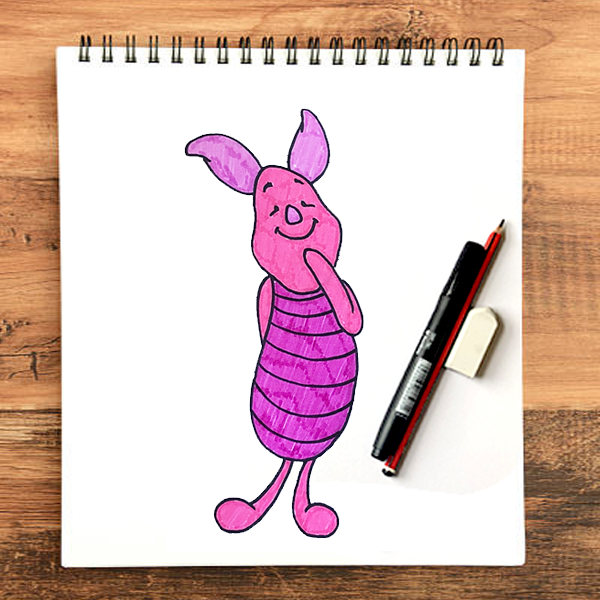 Suitable for medium skill level artists
Complete in three simple steps
7 minute-long video tutorial
Made with pink, black and purple colours
Watch the video tutorial
This video of how to draw Piglet is around 7 minutes long. A friendly voice tells you which coloured pens and pencils you will need, and you can pause the video at any time to catch up. Click the play button below to get started.
Step by step guide
The drawing guide below shows you how to sketch and colour in a Piglet cartoon drawing easily, one bit at a time. Scroll down and start drawing!
1. Draw the face

Hi friends, today you'll learn how to draw Piglet. 

But not just any Piglet - our little cartoon pig is going to glow in the dark, because why not?! 

So, what's first? Let's start with Piglet's face. 

A cute arching shape for the snout, followed by two squinty eyes just above, left and right. 

Here comes that cute smile, framed with a dimple either side. 
2. Draw the head

Now we can sketch the outline of Piglet's face with our pencil, with the widest part at the cheeks and the more narrow points at the top and bottom. 

Oh and a tiny pair of eyebrows too. 

Then for Piglet's ears, some curves that meet at a point up top. 

Pigs ears look quite like leaves you see in the park or in your garden. 
3. Draw the arms

Now we can sketch Piglet's cartoon body, which is almost twice as long as the head. 

First the left hand side of the body, and a small shoulder poking out. 

From the right hand side, a slim arm that's almost touching the chin and the elbow point almost in line with the other arm. 
4. Draw the body

Round off that belly. 

Then, a bendy pair of legs. 

The feet look a bit like balls attached to pieces of string, don't you think? 

A final few pencil strokes to finish up, and that's drawing lines across Piglet's bodysuit - and we're done. 

Congratulations guys, you've made a fantastic drawing of Piglet from Winnie the Pooh! 
5. Ink the outlines with marker pen

Step 2 of our Piglet illustration is inking the outlines with black marker pen. 

Don't worry if you don't have one in your pencil case. 

Strong, thick pencil lines work just fine, or even a black pencil. 

Trace over each part of your drawing, nice and smooth. 

And whilst we do that, here's a fun joke… 

What do pigs do when they graze their knees? Rub on some oinkment! 

Haha. 

Looking good so far guys. Nearly finished. 
6. Colour in your drawing

The last step of our drawing exercise now, which is colouring in. 

We said that this Piglet sketch is going to glow in the dark, so we have neon pink and purple to colour in with. 

You can use regular shades of pink if you want, to make your drawing look more like Piglet in the original Winnie the Pooh cartoon. 

There are plenty more great cartoon characters to draw at Quickdraw, so don't forget to try them all! 

And if you can, Like and Subscribe to the Quickdraw YouTube channel - that helps a lot! 

Thanks for watching guys, see you next time!
More drawing ideas you might like...