How To Draw Cartoon Popcorn
Want to learn how to sketch and colour in a cartoon box of popcorn? This step by step guide will teach you. It's fun to try, suitable for all ages and easy to complete. The video is just 5 minutes!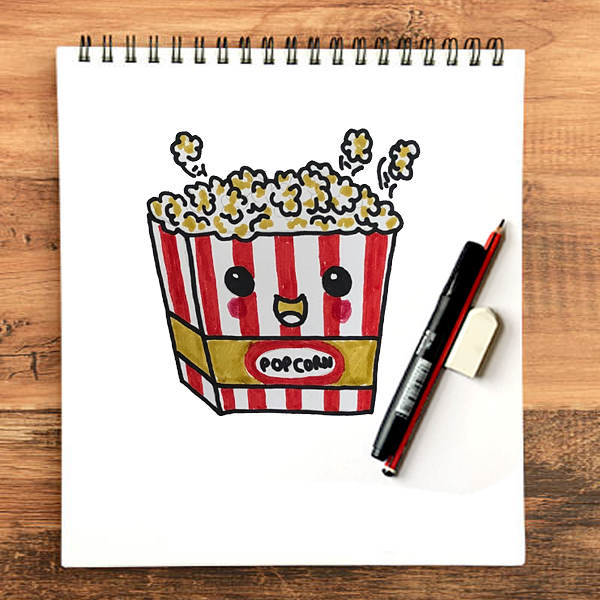 Art materials for this popcorn drawing...
Pencil
Eraser
Black marker pen
Coloured pens, pencils or chalks
Watch the video tutorial
This video of how to illustrate a box of popcorn from the cinema is about 5 minutes long. A friendly voice tells you what pens and pencils you will need. You can pause the video at any time to catch up. Click the play button below to get started.
Step by step drawing guide
The drawing guide below shows you how to sketch and colour in a happy popcorn box easily, one bit at a time. Scroll down and start drawing!
1. Draw the outline of the box

Greetings art fans, today we will learn how to draw a cute, cartoon box of popcorn. 

Mmmmm… delicious! 

Let's get started. Take out your pencil and sketch a square shape with four sides. This will be our popcorn box. But one minor change, being the top of the box is wider than the bottom. 
2. Add a side to the popcorn box

Because now on the left, we can draw on another side of the box - it's much narrower, and the official art term for this is called 'perspective' - you can impress your art teacher with that one!
3. Some detail for the face and label

On the bottom half of the box we can draw on a sticker that wraps around both the front and side - this is a space where we can draw in a logo or just write the word 'POPCORN' if we like. 

Make it fancy or leave it blank, even write in your name! 

Then for a cute cartoon face - a chubby little smile, and two circular eyes, with a pair of blushing cheeks - we can colour each of these facial features in later. 
4. Draw the popcorn pieces for hair

The last part of our popcorn illustration is the popcorn pieces - if you're a big fan you'll know they are funny little shapes that have round edges. 

And when they are clumped together they can look like clouds in the sky. 

A fun way to draw them in is by pretending they are curly hair above the popcorn face. 

Ooops… and because popcorn pops, you can even have one or two pieces bouncing out to escape. 

Great work! 
5. Outline and colour in your drawing

Now to make the pencil lines stand out. Take out a black marker or felt tip if you have one and trace over the pencil lines. 

Hey guys, here's a quick joke for you… 

What's a popcorn's favourite pizza topping? - Popperoni! Haha, so corny. 

Ok and lastly, take out your coloured pencils or felt tip pens and let's bring this cartoon popcorn artwork to life. 

Now for the popcorn pieces, you can colour all of them in yellow or beige, or you can just colour in around the side which gives the illusion of some shade - that's a pro art trick. 

And for the popcorn box, any colours you like. 

Maybe one colour for the box label and some stripes going down, like the ones you might buy when going to watch a movie at the cinema. 

The finishing touch is a dash of pink for the cheeks. 

Awesome work. 

Thanks for watching, please subscribe and like this video. 

See you next time! 
More drawing ideas you might like...