How To Draw A Cute Cupcake
Want to learn how to sketch and colour in a cartoon cupcake? This easy to follow drawing guide will teach you how. It's fun to try, suitable for all ages and takes only 5 minutes to watch.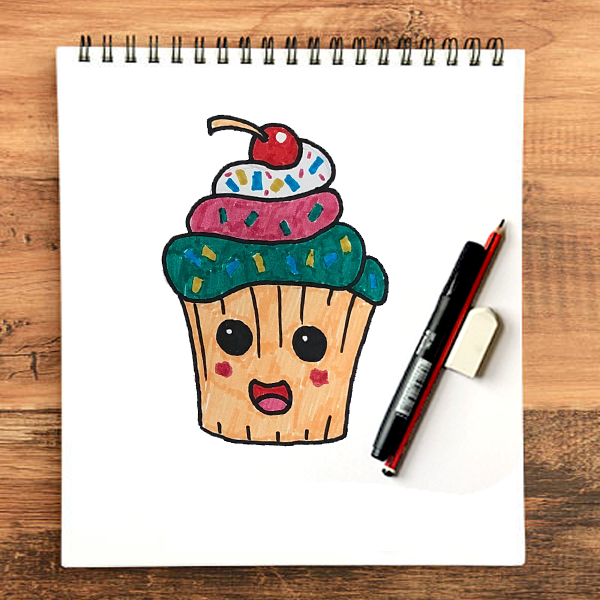 Art materials for this cupcake drawing...
Pencil
Eraser
Black marker pen
Coloured pens, pencils or chalks
Watch the video tutorial
This video of how to draw a cupcake with a smiley face is about 5 minutes long. A friendly voice tells you what pens and pencils you will need. You can pause the video at any time to catch up. Click the play button below to get started.
Step by step drawing guide
The drawing guide below shows you how to sketch and colour in this fun drawing easily, one bit at a time. Scroll down and start drawing!
1. Draw a the shape of the cake wrapper

Yum, yum, yum let's draw a cute cupcake! 

Hey boys and girls, grab your pencil, marker pen, eraser and some colours because we have a cartoon cupcake to draw! 

This is a very quick tutorial and hopefully an easy drawing idea for you to follow. 

Let's start with the cake wrapper, which is always usually made of beige or brown paper. 

The shape of the cake wrapper is square but the sides get wider at the top. 
2. Add a fun face

Draw a cute face on your cake shape!

Two wide eyes, and a happy smile. What's not to smile about sweet treats? 
3. Layer on plenty of icing

Now for the icing, which sits on top of the cake mix in a swirly dollop. 

That's right, similar to a cone from an ice cream van (and also like the poop emoji). 

The icing can be layered one at a time, like this. 

Keep the cupcake icing wavy and narrower at the top. 

Then nesting happily on our cupcake drawing is a delicious cherry, with its stem poking out sideways. 

Guys, we are done! Awesome job. 
4. Grab a marker or felt tip pen

Step two is tracing over the pencil lines of our cute cupcake cartoon illustration with black marker pen. 

We do this to make the outlines stand out more and feel more like a cartoon drawing. 

Hey, did you know…the name 'cupcake' was originally used as a way to remember the amount of ingredients to make a cake. Each ingredient is measured by the cupful: 1 cup butter, 2 cups sugar, 3 cups flour, and 4 eggs. This 1,2,3,4 recipe is why cupcakes were also once called number cakes. Cool, huh? 
5. Colour in your drawing

Time for some colour! 

Use any shades of pencil or felt tip to colour in your cute cupcake illustration. 

Some warm, cheerful colours for the face. 

Maybe a combination of white, green, blue and pink for some delicious icing? Mix it up and let your art materials do the cake decorating! 

Red for the cherry, no doubt. 

Incredible work guys, thanks for joining in. 

Don;t forget to subscribe to this channel for more drawing ideas and updates from Quickdraw. 

See you next time! 
More drawing ideas you might like...