How To Draw Lego Batman
In this superhero edition of Quickdraw's learning to draw series you will sketch your very own cartoon Lego Batman. Drawing Gotham's favourite crime-fighting detective is easier than you think when you have the right art kit and a step by step guide, like the one below. It's suitable for kids aged 5 and above, and a whole lot of fun to try at home or in art class at school. Let's start drawing and colouring, Batman fans!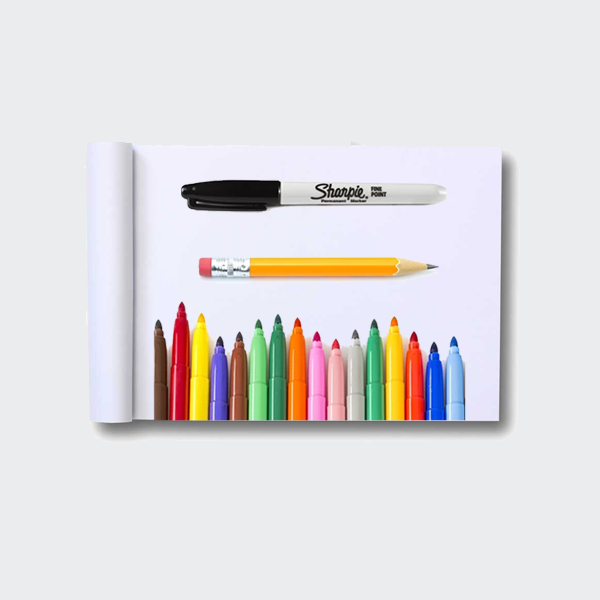 Step 1: Drawing with pencil
For this step by step drawing you'll need a pencil, black marker, eraser and coloured pens or pencils: black, grey, yellow and a touch of pink. 

Our Lego Batman can be broken down into three areas: his head and mask; his body; and his legs. All three of these parts will be roughly the same length. 

So, totally up to you, but we're marking out those parts with a ruler at 5cm each. Much easier this way. 

Some rough marker lines now, for his chin, neck, and the utility belt across his waist. And those chunky lego legs. 
So here's the trick - Batman's head won't take up the whole top space, we have to leave room for the pointy ends of his mask too. One on each side. 

In the bottom half of the mask, a large gap for his mouth. 

That only leaves us with two slim slits for his eye-holes. 

One serious crime-fighting frown, and we're done here.
Onto Lego Batman's body: keep it simple by drawing his shoulders at the same width as his mask and the waistline slightly wider. 

A pair of arms down by his side. 
And on his chest, we can be super detailed and draw on the batman logo and some ripping stomach muscles. But if you want to skip this section, feel free to leave it blank! 

These markings on his stomach and chest will be a different colour to the rest of his superhero costume. 
Now for his utility belt - we can draw on a bunch of squares or rectangles - who knows what gadgets and tools he has kept away in there. 

Let's mark out his legs. Leave a minor gap in between them. 

They should look like blocks of wood. 

A line on each to mark out where his boots are, and then another on each for his knees. 
Behind those study legs we can show his cape peeking out. We don't have to draw the whole cape. 

What's missing? 

Oh right, Batman's hands… lego hands are a weird circular shape like a claw. Even Lego batman has them.
Step 2: Drawing with pen
OK art fans, now it gets interesting… out comes the black marker pen to draw over the pencil lines. 

We can colour inside after this, but now we just need an outline to make our lego batman artwork stand out nice and strong. 

Hey, how about some cool batman jokes whilst we draw..? 

What do you call Batman when he's got a black eye? Not Bruce Wayne, but bruised Wayne! Oh boy, not one of the all-time classics. 

Hey guys, did you notice something odd when you watched the Lego Batman movie… none of the characters had the normal yellow lego skin colour. Every superhero and villain had their own costumes exactly like the film. Cool, huh? 
Step 3: Colouring in
Right, the last stage of our tutorial on how to draw Lego Batman: colouring in. 

This is simple, the only things you need to know are… 

Colour batman's cape and body armour black or grey. Give him a shiny yellow utility belt. And a small dash of pink for his mouth. 

Your cartoon Lego Batman illustration is complete! He's ready to go fight crime, and hit the Joker where it hurts. Watch out villains of Gotham city.
More cartoon drawing ideas right here...