How To Draw a Digger Truck
Start your ignition... sketch and colour in your very own cartoon digger truck, step by step! This guide is suitable for children aged 5+ and beginners to drawing. Follow these tips to get started..!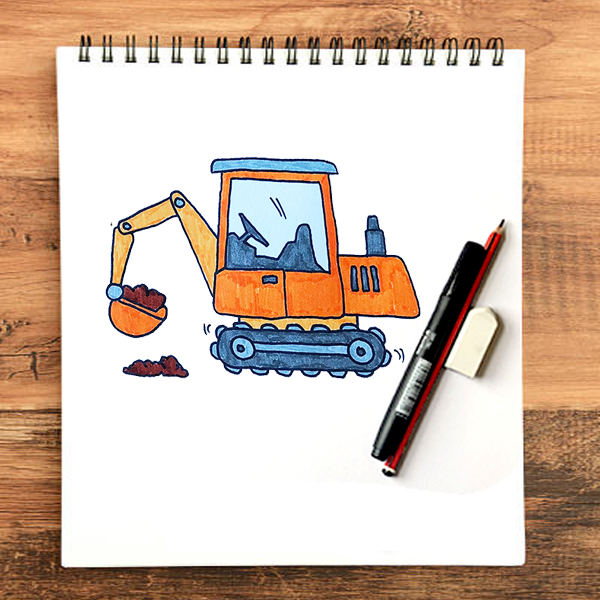 Art materials you will need...
7 easy to follow steps
Medium drawing skill level
Video guide and drawing instructions
Use a pencil, eraser, marker pen and colours
Watch the video tutorial
This video of how to draw a digger takes less than 10 minutes to watch. From start to finish, a friendly voiceover explains what parts of the mechanical digger vehicle to draw and how. Click the play button below to get started!
Step by step guide
Completing a digger drawing is easy when there are clear instructions. So don't worry, Quickdraw has you covered! Scroll down to start your amazing artwork!
1. draw the main digger cabin

We are going to start sketching our digger cartoon by focusing on the middle part - this is the main area of the digger that contains all the controls that work the digger levers. 

Draw out a rectangle shape, with the bottom slightly wider than the top. 

Up top, another shape to form the narrow roof of the digger cabin. 
2. the back of the digger

And to the right of our large rectangle, a smaller square shape - this part will be where the engine is stored. 
3. the caterpillar tracks

Down below, we have our caterpillar tracks - this is like a thick, heavy duty bicycle chain that the digger truck sits on. It has to be sturdy because it's carrying a lot of weight. 

It has two small wheels inside and lots of wheel grips on the outside. 
4. the digger levers

On the left hand side, we'll draw our digger levers which are made up of four parts. Think of this as the arm of the digger, as it uses these parts to bend into different positions. 

At the end of the lever is the scooper - this is a piece of machinery that digs up dirt from the ground. 

You can even draw some dirt in the scooper - or on the ground. Now our digger drawing is looking cool! 
5. inside the digger cabin

The final parts to add are the windows and the seating area inside, which might have a steering wheel or some controls for the builder on the building site to operate. 

Excellent job, boys and girls - now for the next step of our artwork. 
6. drawing with marker pen

Take out a black marker pen and trace over each of the pencil marks on your digger cartoon drawing. Using a marker pen is great because it gives the drawing a strong outline. 

If you don't have a marker, that's no problem. You can use another material like a chalk or crayon - or skip ahead to the final part of this drawing exercise. 

Here's some trivia for you guys… a digger is also known as an excavator. This first of its kind was invented way back in 1796, and at that time it was called a steam shovel. 

Maybe you will see a digger in action the next time you pass a building site or a neighbour's house that is having some building work done to it.
7. colouring in

And now for part three - colouring in! 

Guys, what colours should our digger drawing be? 

Let's make it nice and easy for ourselves by picking some dark colours for the caterpillar tracks and machinery that sits in it, like black or grey. 

But for the main part of the digger, which is the levers and cabin, we can choose any colour we like. How about a bright combination of yellow and orange? That might work! 

Take your time and colour in smoothly. 

Felt tip pens and coloured pencils both work just as well. 

Time for the last touches of colour now. 

And that, boys and girls, is how to draw a digger step by step. Give yourselves a part on the back for such a great effort. 

Don;t forget, there are plenty more Quickdraw drawing ideas to try out… you can find them on this YouTube channel and the Quickdraw website. 

See you next time!
More drawing ideas you might like...