How To Draw a Race Car
Engines at the ready... sketch and colour in your very own cartoon race car, step by step! This guide is suitable for children aged 7+ and beginners to drawing. Follow these tips to get started..!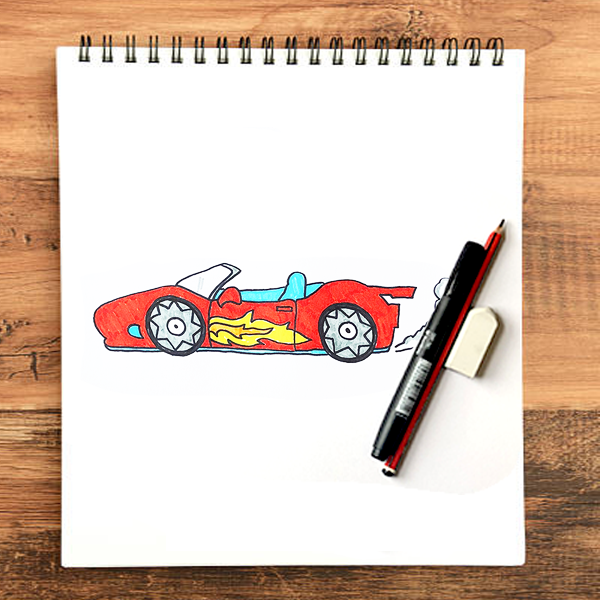 8 easy to follow steps
Suitable for beginner skill level
Video guide with voiceover
Use a pencil, eraser, marker pen and colours
Watch the video tutorial
This video of how to draw a race car takes less than 10 minutes to watch. From start to finish, a friendly voiceover explains what parts of the race car to draw and how. Click the play button below to get started!
Step by step guide
Sketching and colouring in a fast car cartoon is easy when there are clear instructions. So don't worry, Quickdraw has you covered! Scroll down to start your amazing artwork!
1. draw two wheels

So, what comes first? We'll take this race car cartoon drawing step by step to make it easy on ourselves. 

Let's start with two wheels - draw around a small circular shape like a lid if you want to make them perfectly round. 

Between these wheels, a line for the bottom of the car. 
2. now for the shape of the race car

Then comes the rest of the main race car, the boot at the back and then a smooth line all the way over to the sloped bonnet - this is where the race car engine sits. 

Notice how the top of the car is a lot lower than a regular car, and how its front is sloped down.

This is because race cars need the wind to glide right over them to make them go faster!
3. add in wheel caps

Here are some markers for the door. It's a two-seater, no room for backseat passengers unfortunately! 

Extra details on the wheels. You can draw on any pattern you like - the front and back wheels can be the same or look different. It's up to you. 
4. drawing the car door

We need to work on the door now. Curve some lines on the car panels. And a small wing mirror for the race car driver to look out from. 
5. a windscreen, and spoiler

Then the windscreen. As we are drawing this side on, we won't see the whole of the windscreen, only the side of it. 

A nice little spoiler on the back, above the boot. All high performance race cars have these, don't they! 
6. the driver's seat and a flame!

Oh, wait - there's no driver's seat. Quick, let's draw that in. You will only see the side of it poking out above the door, which means it's a bit of an odd shape.

Some final details now and then we can add the best looking part of the car… the flame stripes! 

Drawing a flame on a car is different from how you would draw a candle flame or a fire. It's just one long flame inside another, like this. 
7. drawing with marker pen

Part two now, this is where we take a black marker pen and trace around the pencil lines of our race car drawing. 

If you don't have a black marker pen you can use a piece of chalk, pastel or even paint those lines on. 

The black outline really does help the drawing come to life. 

Take your time on this part of the drawing tutorial. Keep those lines nice and smooth.   

Whilst you're making this awesome artwork even more amazing, let's share a fun joke… 

What's a race car's favourite thing to eat for lunch? Fast food!

Haha, see if your friends can get that one. 

Ok, how's it looking? Incredible job so far. One final trick… a cloud of smoke to show how fast your race car is driving! 
8. colouring in

The last step in this easy drawing tutorial is to colour in our race car - this is where you can customise the car to have whichever colours you want. 

Use a set of felt tip pens, coloured pencils, chalks or pastels. 

If you're stuck for ideas, how about red? It's a popular colour, and always looks good on a fast car.

This inside of the car, where the seats are, can be a totally different colour. We're making ours blue, the same colour as the sky and the sea. 

The wheels can be darker, maybe a black or grey. Who cares, they will be covered in dust anyway! 

The flame pattern on the side of the car usually looks great in orange and yellow. 

Nice. 

Don't forget, there are plenty more drawing ideas to try out on the Quickdraw YouTube channel and website. See how many you can do! 

See you next time! 
More drawing ideas you might like...