How To Draw Wonder Woman's Logo
Want to learn how to sketch and colour in your very own Wonder Woman logo, step by step? Follow this drawing guide. It's suitable for superhero fans and beginners to art and illustration. Watch the video tutorial or follow the guide below. Let's go!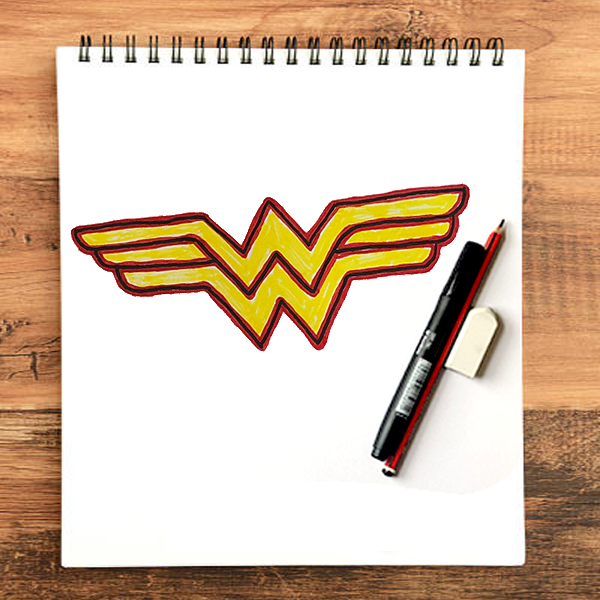 Suitable for children aged 5+
Medium skill level
Takes less than 5 minutes
Art materials: pencil, marker pen, coloured pens / pencils
Watch the video tutorial
This video guide of how to draw the Wonder Woman W logo is under 10 minutes. A friendly voiceover explains how to draw this symbol from start to finish. You can pause the video at any time or skip to step 2 and 3. Click the play button below to get started.
Follow the step by step guide
Sketching and colouring in a logo like Wonder Woman's is easy when there are clear instructions. So don't worry, Quickdraw has you covered! Scroll down to start your superhero artwork!
1. draw an arrow

So we are sketching out the large W symbol, which actually has two W's in it. 

We will start by drawing a vertical line and some diagonal lines coming off of it, like an archer's arrow. 

Or, think of this image as a stick drawing of a tree in the forest.
2. turn the arrows into W's

Then, at the bottom points of those lines we will go up again, diagonally. 

This is a symmetrical drawing so whatever we do on the left we must also do exactly the same on the right. 

You now have yourself a pair of W letters stacked on top of each other - this stands for Wonder Woman!
3. extend the W's out left and right

Extend the pencil lines out and back in again to make a shape that looks like a bird spanning its wings.

Of course, not a bird up close but one flying away from a distance...
4. make the logo symmetrical

Three wings on the left, three on the right. 

Wait, lets just tidy this wonder woman symbol up slightly by erasing away the loose pencil lines and straightening up the big W's. 

Much better. 

Those top and bottom arrow points should be nice and sharp. 

It's as simple as that - you have created your very own female superhero cartoon logo.
5. tracing with a marker pen

Now on to inking our Wonder Woman logo illustration with marker pen. 

If you are a perfectionist you might want to use a ruler to create straight lines, but hey, there's nothing wrong with drawing freehand - a few wobbly pencil lines here and there gives a drawing character don't you agree? 

How about a quick joke… 

Q: What is Wonder Woman's favourite children's book?

A: Alice in Wonderland. Haha! 

One last touch, maybe a few small stars to add decoration. 
6. colouring in

Take out your colours - this cartoon logo is made up of red and yellow. 

We will use the red shade to create an outline around our black marker line. It's a bit like a neon light border. 

Go both inside and outside of the black and carefully as you can. 

Then comes the yellow. Finally enough these are the same colours used for Superman's S shield - both Clark Kent and Diana Prince are superheroes that obviously have a lot in common. 

The yellow shade will fill in the rest of the white space, which is the two W letters on top of each other and their three wings either side. 

Awesome work so far. If you have enjoyed this drawing guide then please check out more tutorials on Quickdraw's YouTube channel. 

And don't forget to tell all of your friends! 

Thanks for following, see you next time. 
More logo ideas you might like...